When each person opts-in you must by law include an automatic response and include opt-out instructions.

Suggestions for information to include in your auto-reply are:
Thank you and confirmation of their subscription
Offer something of value
Frequency of messages to come
Opt-out instructions
Include an attachment that includes important information or a call to action
All auto-reply messages cost 1 credit to send unless your character count is over 160 then it will cost 2 credits.

NOTE: Our system will automatically add the opt-out information for you, simply craft your response and we'll do the rest.

For Example
1 credit message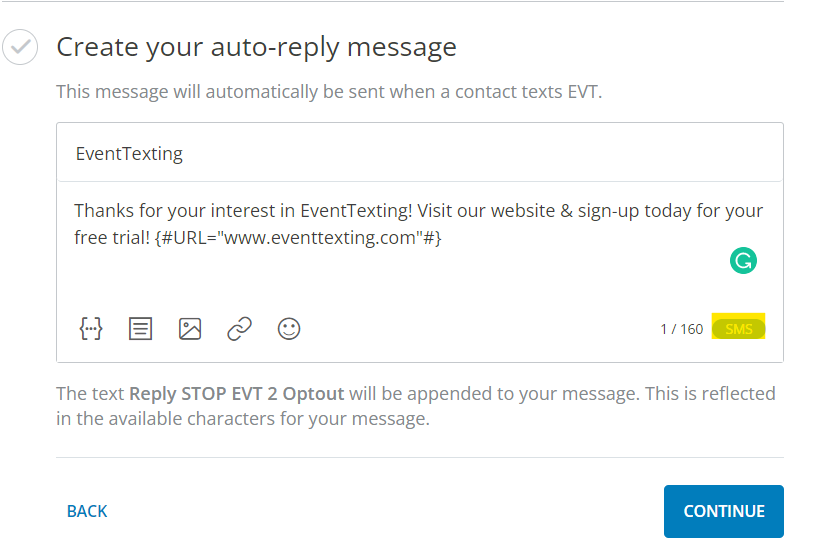 1 credit message
Thanks for becoming a Celebrations subscriber! Show this text and get 10% off our prepared in-store-to-go meals! Receive 4 msgs/month. Reply STOP to end.

If your confirmation auto-reply won't save, delete any quotations (' or "). Deleting these should solve the problem.
Reply Settings
These settings are rarely used but may be helpful depending on what you are trying to accomplish. To use them, click Set up.


Alternate Reply Message – If this option is enabled, it is intended to let contacts know that they have already opted in. Please note that if this option is enabled, contact will not be able to rejoin or be re-added to a drip campaign for example.
Double Opt-In Confirmation Message – If this is enabled, contacts will receive another message asking them to confirm if they would like to join your text list. If they respond with "y" or "yes", then they will be added and also receive another message confirming this action.
If you wish to use these options, don't forget to Save!
To delete these options, click Set up and select the blue "Delete" button.