Sub Keyword is an additional word or phrase with or without numbers that is used with your main Keyword. This allows you to create groups or categories within the main Keyword. Sub Keywords are great when you want to market to different locations and communicate to certain groups within the main keyword. Best of all, Sub Keywords are free and unlimited.

For Example
Suppose you have three Bridal Salons in New Orleans, Baton Rouge, and Lafayette Louisiana.

Main Keyword: Chloe
10 digit Textable Number
Sub Keywords
●NO (New Orleans)
●BR (Baton Rouge)
●LFT (Lafayette)

Put them together by listing your main Keyword first, then a space followed by your Sub Keyword and it's that easy!

●Chloe NO (New Orleans)
●Chloe BR (Baton Rouge)
●Chloe LFT (Lafayette)

Note: There has to be a space between the Keyword and Sub Keyword or it will not work.
Groups
Groups are created in your contacts and used to send out text messages to specific people and to segment contacts for strategic communication. You have a max of 12 characters to name your groups.

Examples
●Chloe NO-Your New Orleans subscribers
●Chloe LAF-Your Lafayette subscribers
●Chloe BR-Your Baton Rouge subscribers

When a subscriber texts Chloe NO to your 10 digit Textable Number that contact automatically goes directly to your group Chloe NO. Now you're free to promote your business directly to that demographic. If you want to communicate to all three demographics at one time you will simply click each group you want to include when you are composing the text message!
How to set up Sub Keywords

Simply access your main Keyword under Keywords and Numbers from the left navigation panel in your dashboard, click the plus sign+ to the left of the Keyword and click ADD SUB-KEYWORD.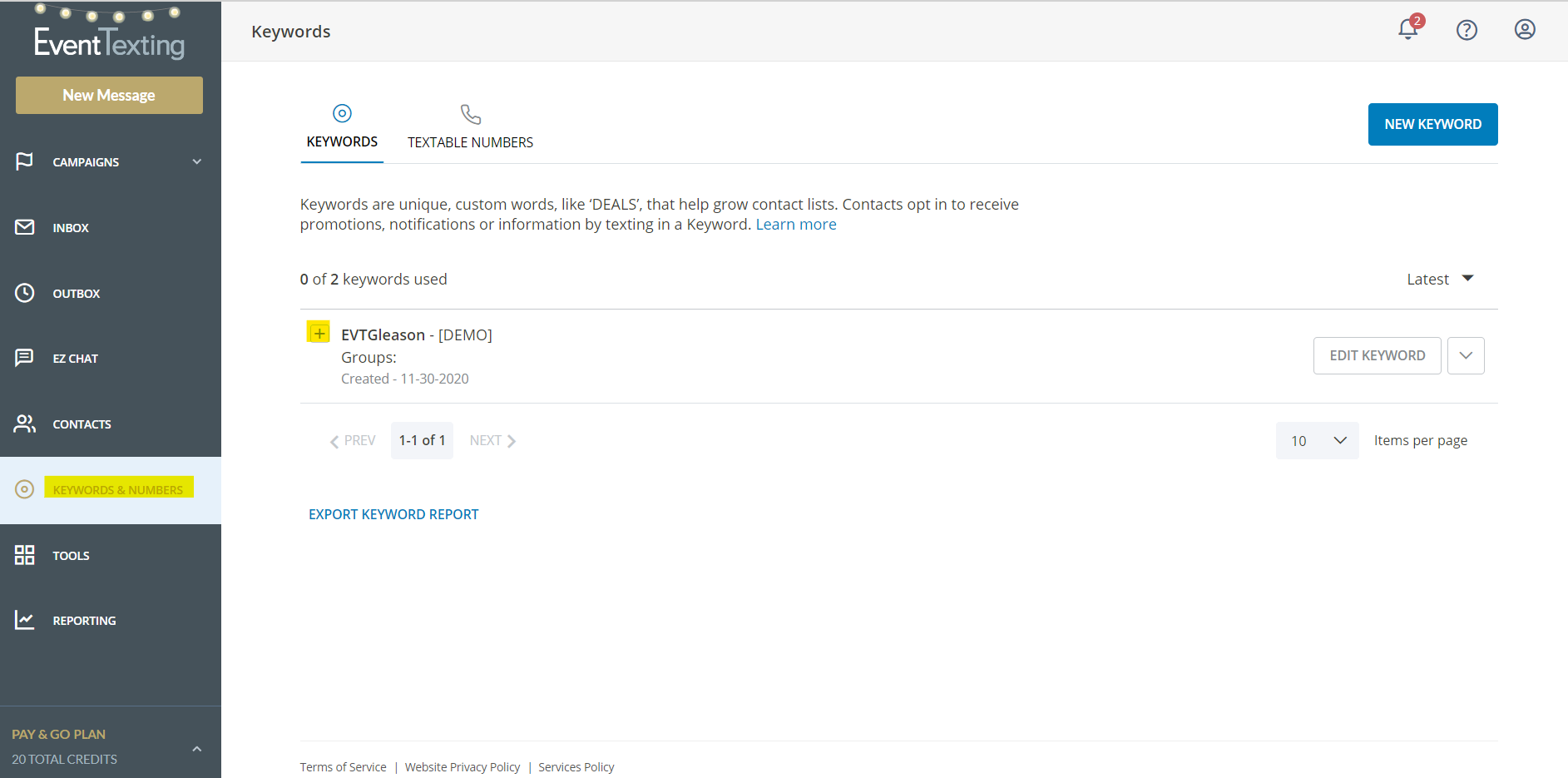 After your Sub Keyword is selected, you will be prompted to craft an auto-response message which can be customized with information pertaining to that particular demographic or event.