Catering
A successful event rides on the expertise and execution of an excellent catering company. You're a central player in the event industry and hosting organization. Your delectable creations keep everyone in attendance happy and well fed.
The usual ways of obtaining clients are repeat customers, word of mouth, referrals, preferred vendors lists, event planners, partnerships, advertisements, bridal shows and social media, but what if there's another option for marketing that could take your business to the next level?
Reach the masses by leveraging a successful SMS and MMS texting platform. It's a great way to connect with people, get personal, show your stuff and grow your business! With EventTexting, you can integrate with Facebook, Twitter, Instagram, and your website for maximum marketing potential.
---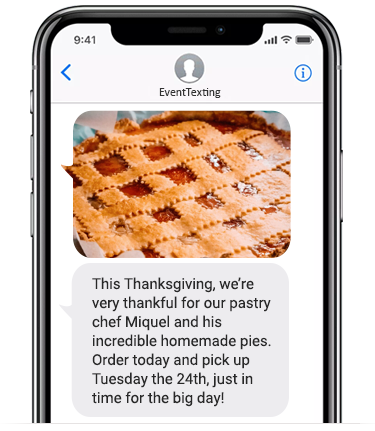 How can SMS texting work for your Catering Business?
Text Clients, Potential Clients and Subscribers
Menus
Wedding food trends
Real weddings
Recipes and Tips
Party planning Ideas
Wine Pairings
Seasonal and local favorites
Catering take out
Cooking classes
Company news & events
Bridal show dates
Headcount reminders
Holiday specials
Referral specials
Collect customer feedback
Customer follow-up
Employment opportunities
---
Text Your Team
Delivery Schedules
Installation and Strike timelines
Event Logistical info
Vendor Information
Venue specifications and rules
Event Timelines
Important changes on event day
Bride and Groom requests
Important reminders on event day
Team building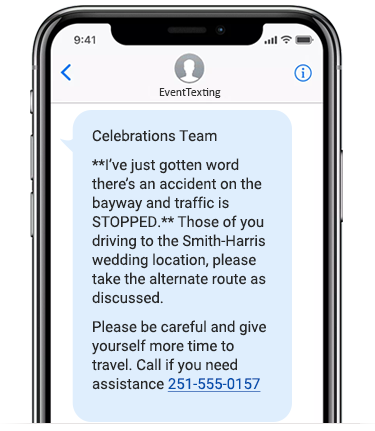 ---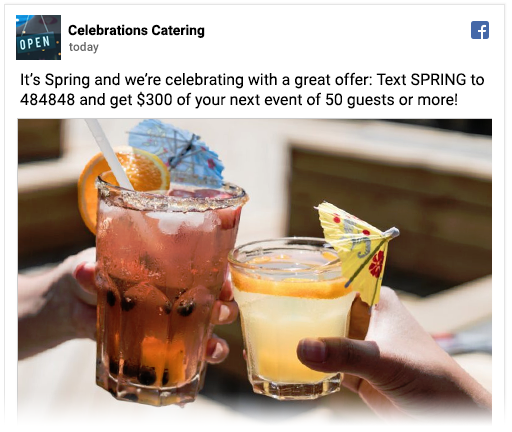 Promotion Example
Create an amazing promotion to grow your followers and increase brand awareness!
---
Texting for Different Locations
Do you operate in multiple locations? Easily send custom messages to different areas or groups. Read more…
Does Your Company Have an In-House Corporate Event Planner?