Wedding Planners
As a wedding planner, you know that effective communication with your clients, vendors, and staff is paramount to planning and executing a successful event. Everyone wants to be kept up to date on the planning process. With EventTexting, you can segment your contacts into groups and communicate only what's relevant to them.
Automation is your new assistant!
Today's wedding planners invest a lot of time and money in a variety of apps and platforms to assist in their daily workflow. In addition to those tools, adding our EventTexting platform to your business will save you time and help you do so much more! Schedule important reminders weeks ahead of time. Keep everyone updated and on track throughout the planning process and especially on event day. We know things can change quickly. Being able to communicate important information and last-minute changes to everyone involved is critical. It's a real game changer!
Planning
Text Couple, Wedding Party + Guests
Bridal party instructions
Wedding Questionnaire
Link to couple's wedding website
Hotel room block info and deadlines
Evites for planned parties and trips
RSVP reminders
Childcare details
Text Vendors + Your Team
Wedding design board
Wedding floor plan
Wedding timeline
Installation / strike timeline
Logistical details
Venue specifications and rules
---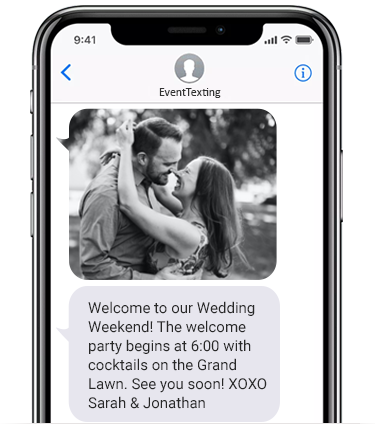 Event Week
Text Wedding Party + Guests
Welcome message to guests with photo
Welcome bag information
Favorite area restaurants & attractions
Things to see and do while in town
Transportation schedule & traffic issues
Wedding day timelines
Rain plan instructions
Last minute changes on wedding day
Text Vendors + Your Team
Rain plan implementation
Last minute change instructions
Requests from the Bride and Groom
Important event schedule reminders
Team building
---
Post Event
Text Wedding Party + Guests
Pop-up gatherings and after parties
Thank you for coming message!
Link to wedding photos
Text Vendors + Your Team
Employment opportunities
Business news
Industry events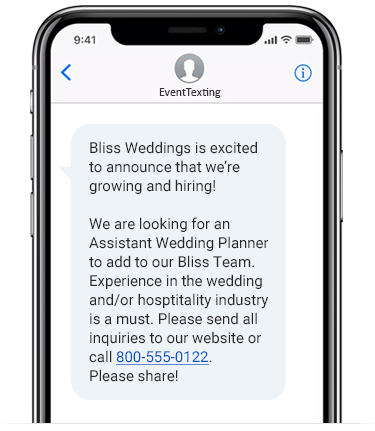 As a small business owner, engaging more clients is top priority.
Traditional marketing methods (like buying ads in bridal magazines) can be pricey, especially when you're just starting out. Actively engaging in social media is great, but it doesn't always bring in enough business alone. With EventTexting you can connect directly with your biggest fans, create more referrals, and promote your website and other social media accounts for maximum marketing potential.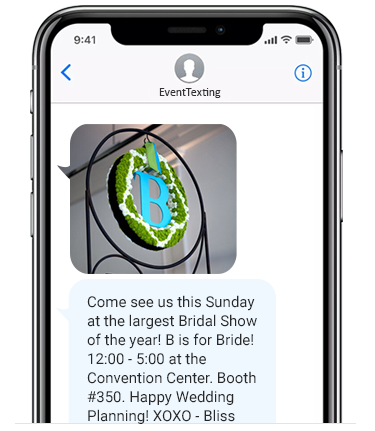 Connect, create fans, and gain future clients
Practical ways SMS and MMS texting can work for your wedding business
Anniversary text message to couples
Wedding trends
Real weddings
Floral design trends
Company News/Events
Company events
Bridal show dates
Referral specials
Collect customer feedback
Create exclusive VIP content available only to mobile subscribers
Blog posts
Employment opportunities
---
Texting for Different Markets
You may travel and serve several areas and want to market different promotions for each location based on demographics. You can segment your subscribers by using Sub-Keywords and creating Groups on your dashboard. Click here to learn more…