Simply put drip campaigns are a series of automated messages that goes out at certain intervals of days, months, and even years. Imagine sending out a Happy One Week Anniversary message to your clients, complete with a link to a video of you and your staff wishing them all the best! Then on their 1 Year Anniversary, they get a different message and video celebrating and remembering their special day!
To access this feature click on Campaigns in the left navigation panel of your Dashboard, then select DRIP CAMPAIGNS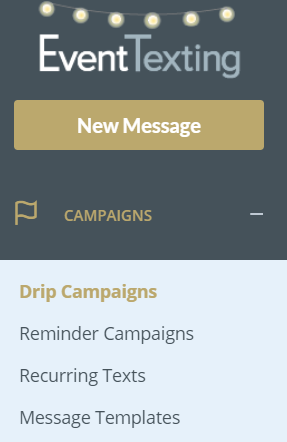 1-Name your Campaign
2-Connect to a group or create a group
3-Create the message
4-Schedule when your message will go out
5-Hit Save
6-Create the follow-up message
7-Schedule when the follow-up message will go out
8-Hit Save
Repeat this until all of your messages are complete and then launch!
Suppose your clients are getting married today. Your Anniversary drip campaign is set up to send a one-week Anniversary message out (7 days) from their wedding date so you will add them to this campaign tomorrow, a day after their wedding.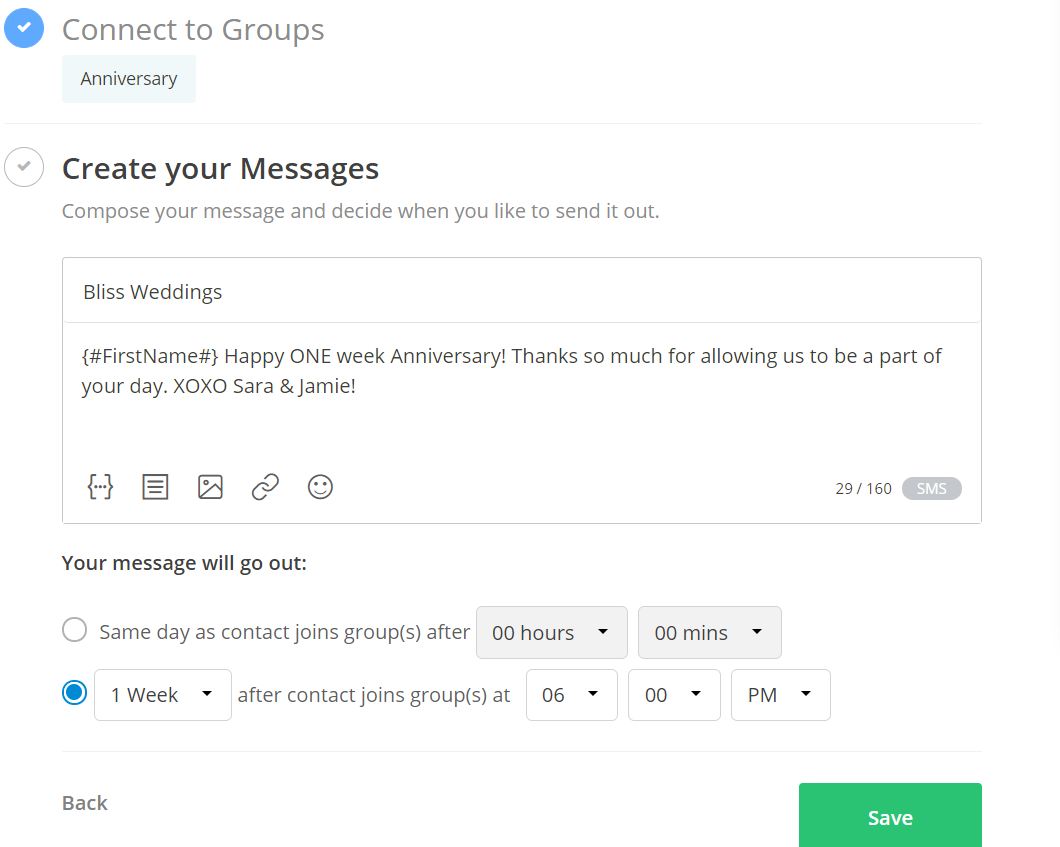 Here's where the drip comes in! Schedule a One Year Anniversary message to go out 365 days from the time they were first added to the campaign, wishing them a Happy One Year Anniversary!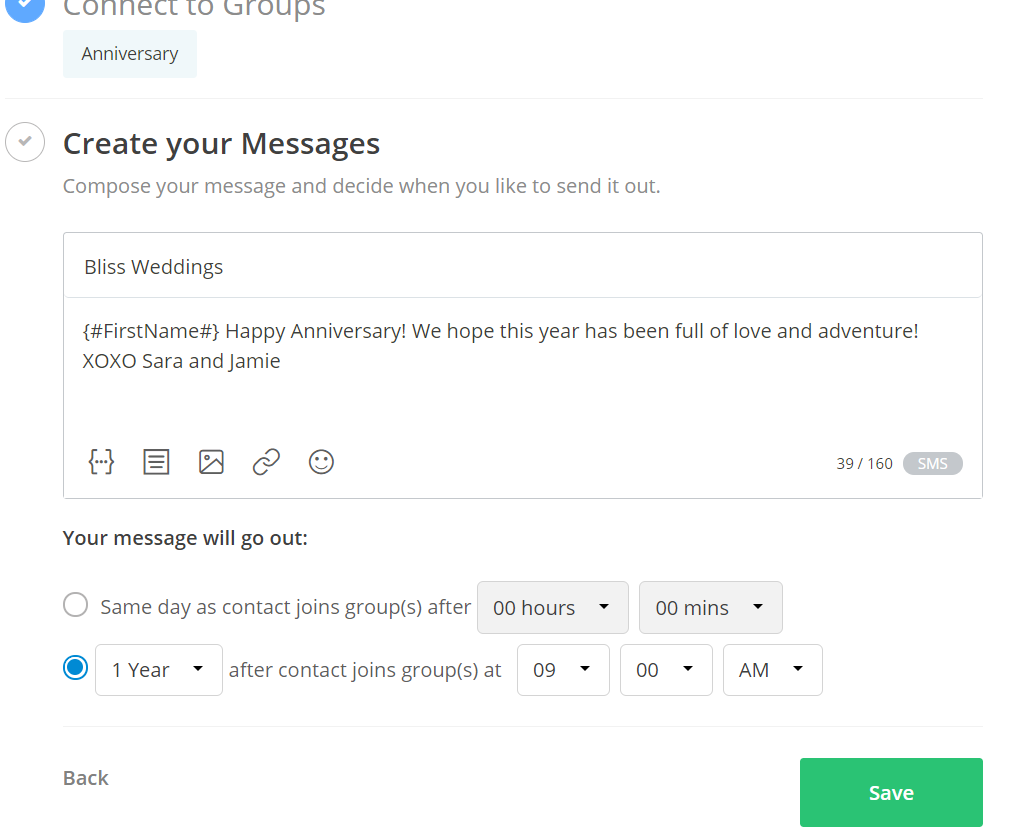 This is how it will look as you are creating the drips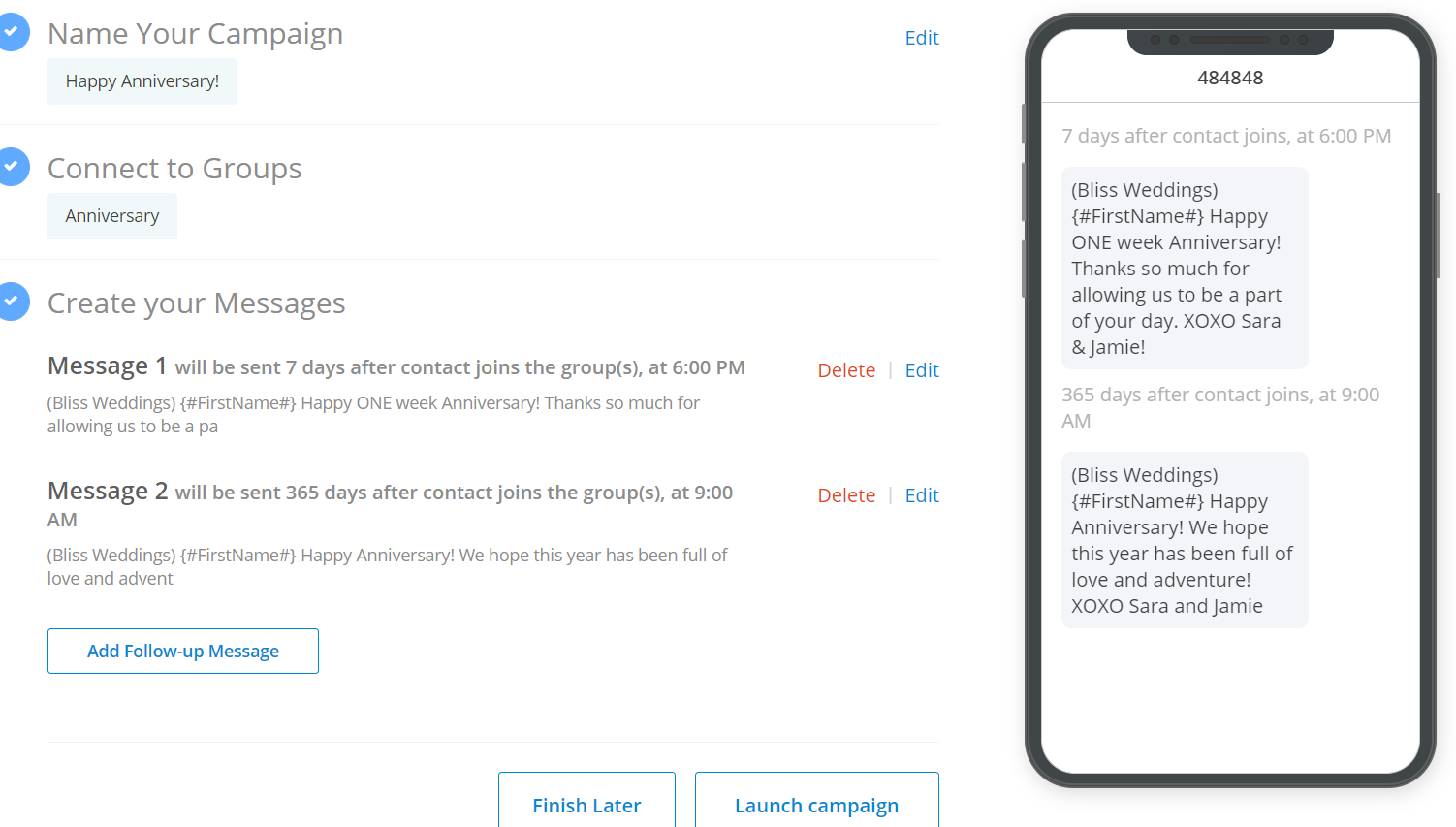 If all looks great then launch your campaign and enjoy the automation. What a great way to stay connected to your clients!
Drip the Wedding or Event Checklists!

Another great way to use drip campaigns is to automate your checklists to be sent out at the appropriate timeline intervals…8-12 months out, 6-8 months, 2-5 months, 1 month, 1 week, etc. Simply add your couple to the group with their appropriate starting point and sit back and enjoy the automation. Best of all it's not emailed! It goes right to their phone.