Photographers
We all know an excellent photographer is worth his or her weight in gold and photography is one service no one should skimp on. In today's Insta savvy culture the pictures are everything and the old saying you get what you pay for is true!
So how can creatives stay a step ahead? As a small business owner, marketing your brand and booking more clients in a very competitive market is a top priority. Often traditional ways of taking out ads in bridal magazines can be pricey, especially when just starting out. While most people actively engage in social media as a means of marketing, it can't always be counted on to reach the masses. Having the ability to integrate with Instagram, Facebook and your website gives you maximum marketing potential.
---
How can SMS texting work for your Photography Business?

Text Clients, Potential Clients and Subscribers
Referral specials
Promotions
Anniversary text message
Photography trends
Real weddings
Senior portraits
Boudoir Sessions
Family Photos
Baby Sessions
Workshops
Bridal show dates
Styled photo shoots
Holiday specials
Collect customer feedback
Create exclusive VIP content available only to mobile subscribers
Customer follow-up
Blog posts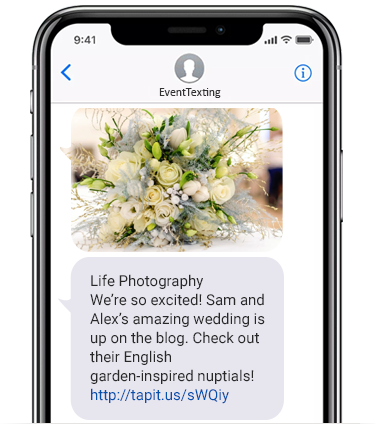 ---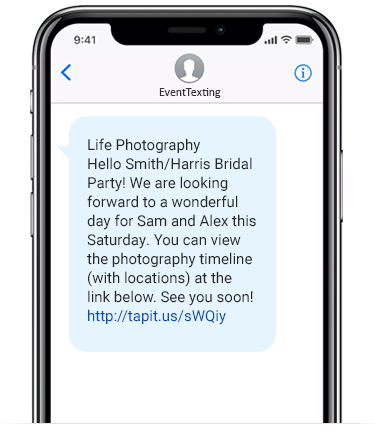 Text the Wedding Party
Photography time-line
Shot locations and changes
Rain plan implementation
Sunset reminder
Special instructions for the bridal party
Link to wedding photos
Up to the minute changes on wedding day
Post event survey
Text the Guests
Special areas set up for candid photos
Photo booth location
Link to wedding photos
Rain plan implementation
End of the night picture and thank you from the bride and groom
Link to wedding photos
RSVP Reminders
---
Text Vendors + Your Team
Logistical info
Venue specifications and guidelines
Rain plan implementation
Important changes and reminders on wedding day
Bride and Groom requests
Must have shot list
Wedding photo checklist
Timeline(s)
Team building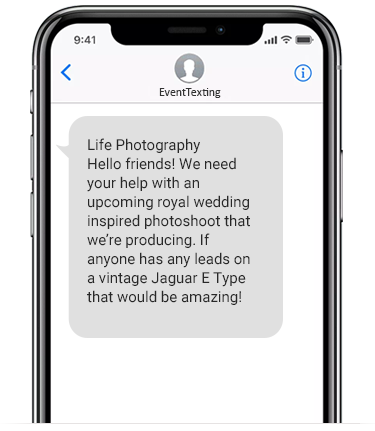 ---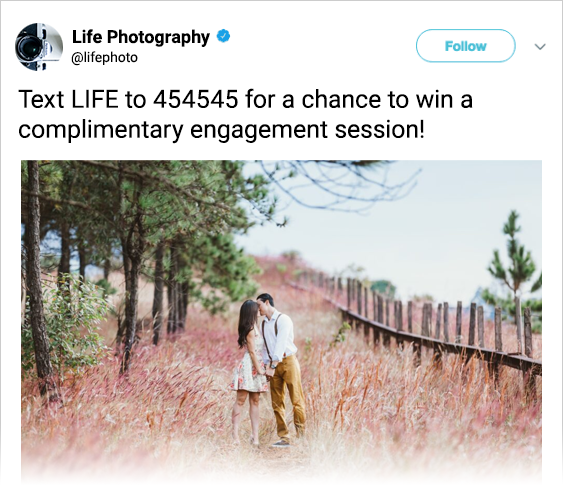 Promotion Example
With EventTexting, you can integrate with Facebook, Twitter, Instagram, and your website for maximum marketing potential.
Marketing to several locations
You may travel and serve several areas and want to market different promotions for each location based on demographics. You can segment your subscribers by using sub-keywords and creating groups on your dashboard. Click here to learn more…