Florists
The job of a florist far exceeds creating beautiful floral arrangements admired by customers. Your business is a main player in the event industry and hosting organization. Your creative mind and flair for design is sought after, helping create the most memorable weddings and events.
As a small business owner, marketing your Brand and booking more clients in a very competitive market is the top priority. Often traditional ways of taking out ads in bridal magazines can be pricey, especially when just starting out. And we all know advertisements in the yellow pages are a thing of the past. While most people actively engage in social media as a means of marketing, it can't always be counted on to reach the masses. With EventTexting, you can integrate with social media and your website for maximum marketing potential.
---
How can SMS texting work for your Floral Business?

Text Clients, Potential Clients and Subscribers
Custom designs and creations
Delivery schedules
Confirmed deliveries
New arrivals
Seasonal inventory
Gift ideas
Inspirational floral arrangements
Wedding trends
Real Weddings
Floral Design trends
Blooms in season and in stock
Appointment reminders
Create buzz around a hosted event
Workshops
Styled photo shoots
Bridal Show dates
Holiday specials
Referral specials
Collect customer feedback
Company news & events
Customer follow-up
Blog posts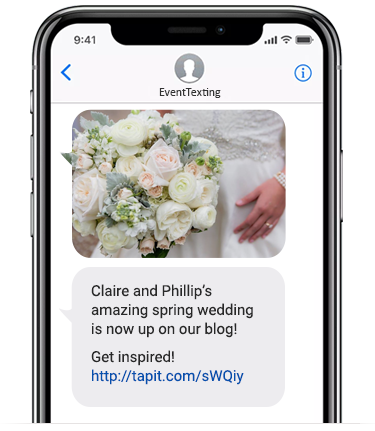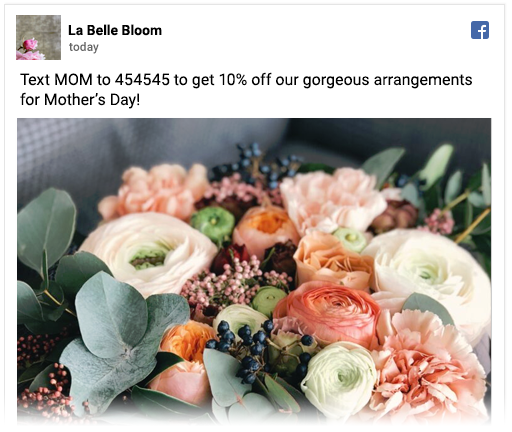 Promotion Example
Create an amazing promotion that will grow your list of subscribers and increase brand awareness!
---
Texting for Different Locations
Do you operate in multiple locations? Easily send custom messages to different areas or groups. Read more…
Does Your Company Have an In-House Corporate Event Planner?