Event Venue
Of all the elements required in creating and making the dream experience come true for all kinds of events, the right venue is at the top of the list! You provide the space and environment where incredible experiences happen. Clients trust you with their most monumental occasions.  And all those monumental occasions require one important element when planning and that's excellent communication.

And whether you're communicating with a few or many, leveraging a successful SMS and MMS texting platform for your event venue will save you time, reach more people, provide excellent customer service and change how you communicate with your clients!

It's a great way to connect with today's audience, get personal, show your stuff and grow your business! With EventTexting you can integrate with social media and your website for maximum marketing potential.
---
How do Event Venues use SMS texting?

Text Clients, Potential Clients and Subscribers
Venue photos and amenities
Special events
Real weddings
Philanthropic events
Anniversary text messages
Wedding trends
Company news & events
Bridal show dates
Styled photo shoots
Holiday specials
Vendor markets
RSVP reminders
Referral specials
Collect customer feedback
Creating buzz around an event
Employment opportunities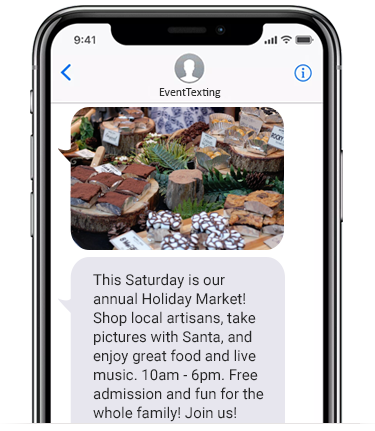 Text Vendors + Your Team
Installation and strike timeline
Logistical info
Venue specifications and rules
Wedding timeline
Wedding floor plan
Wedding design board
Rain plan implementation
Important changes/reminders
Bride and Groom requests
Wedding floor plan
Wedding timeline
Wedding design/mood board
Team building
Employment opportunities
---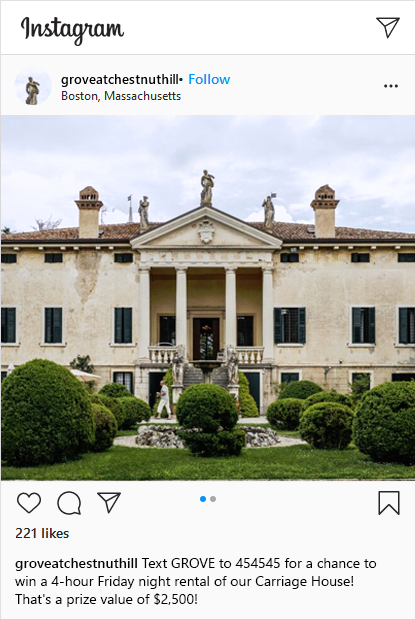 Promotion Example
Create an amazing promotion that will attract subscribers and increase your brand awareness!
---
Texting for Different Locations
Do you operate in multiple locations? Easily send custom messages to different areas or groups. Read more…
Does Your Company Have an In-House Corporate Event Planner?